The demolition of Saffron Gardens bridge in Essex forms part of the Kier A13 widening project  designed to add an additional lane in both directions of traffic to ease congestion on this busy transport artery.
The demolition had to be completed quickly to minimise traffic disruption within the agreed road closure timeframe of 48hours. Due to the effective implementation of the demolition sequence by Clarke Demolition (part of the Tru7 group) the road was reopened more than two hours ahead of schedule.
Demolition Sequence
The first stage of the design process was to work out the protection required for the road surface.
We analysed the expected rubble and impact loads to determine the type and area of matting required. The matting would need to be sufficient to protect the road from both the demolition and impact loads due to debris expected during the sequence.
It was calculated that the placing of Ekki mats would achieve this and these were placed on the road. The designs then outlined the area in which debris was permitted to fall, ensuring that uncovered areas of the road were not damaged during the demolition.
The bridge was prepared for the demolition by removing the railings leaving just the bridge deck.
The demolition of the deck followed a phased sequence and proceeded from both sides of the structure.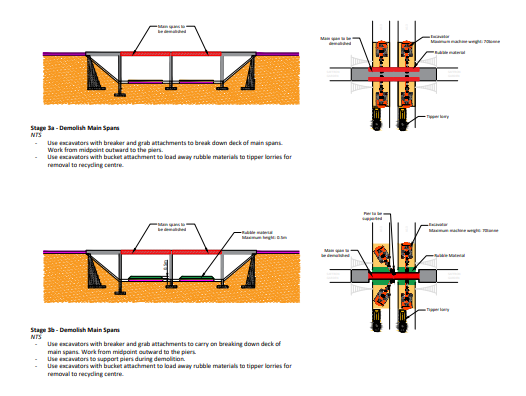 When designing the demolition sequence an area of risk identified was the potential for the piers rotating once the adjacent sections of bridge had been demolished.
To mitigate the risk of the piers rotating they were held in place by machines during the deck demolition.
Once the deck was removed the piers were then broken down from top to bottom completing the demolition sequence.
The debris was then removed the road was cleaned, new road restraint were installed and the road was reopened two hours ahead of schedule.