Crane positions for bridge removal works (Dauntsey Lock and Notton Lane)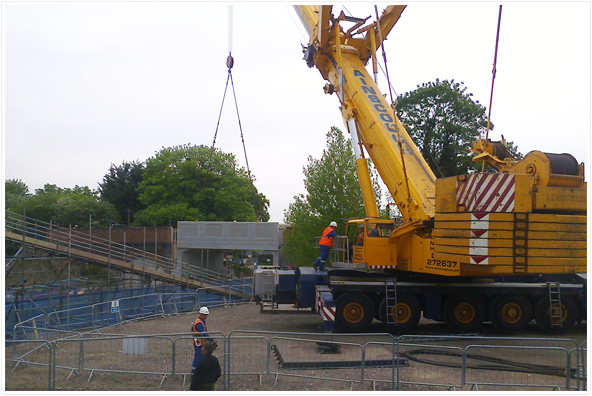 Specific works included:
Design of crane platforms for 150, 250, and 500 Tonne mobile cranes. This included:
Assessment of slope stability where cranes operated at the crest of slopes;
Granular mat design — establish the thickness and construction of granular mat required to provide a stable working platform for the crane during operation. Including use of site won material;
Loading checks on underground services / assets — Ensure that the loadings onto underground services / assets are within the allowable limits;
Category II checks — Andun Ltd also provided independent checks on the design. F002/03 submissions;
Temporary propping to bridges during demolition, including F002/03 submissions.
Design of foundations for temporary footbridges;
Assessment of slope stability where foundations were sited adjacent to slopes; F002/03 submission.